Whether you've recently bought your dream home and wish to make it a literal dream or add value to your existing one, you're at the correct address. The perfect place to start with this is from the very beginning, which is your entryway. Therefore, when you give your home a grand entrance, you will provide the first impression of your home to your guests or anyone who passes by. Then, it will set the tone for the rest of their visit. Secondly, your entrance will give you a wonderfully warm greeting after a long day at work.
Therefore, putting some thought into making your home's entrance as grand as possible is essential. This article will lead you through 5 possibilities to succeed in this endeavor.
Give your home a grand entrance: The How To
Once you buy a home, it's only natural you wish to make it suit your likes and needs from the start. And when the final preparations are done, you can finally pack your bags, find the expert crew in the area for your Miami relocation, and settle in. So now it's time to take it on your own even more. Fulfill it with the decor that portrays your family, and spread the scents you enjoy the most.
So, to help you get to the point where you'll enjoy every inch of your house, let's first see how you can give your home a welcoming entryway. The most magnificent houses in the market have some of these solutions.
Make it pop with color.
Have a statement piece.
Enhance lighting.
Don't forget to include greenery.
Upgrade the hardware pieces.
Add some glitz with paint
One easy and relatively inexpensive way to give your home a grand entrance is to add a pop of color with paint. For example, consider painting your front door boldly, like red or blue. These colors are often associated with energy and excitement, so they can help create a welcoming atmosphere for your guests.
You could add accent colors to your entryway with a colorful doormat or potted plants. These accents can help tie together the overall look of your entrance and add some personality to your home.
Invest in a quality statement piece
Another great way to make a glorious entrance is to invest in a statement piece for your entryway. We asked the experts behind Verified Movers which components their clients generally use, and the top three answers were:
a large piece of artwork,
a decorative mirror, or
a unique light fixture.
Whatever it is, it should catch the eye and add some personality to your home.
When choosing a statement piece for your entrance, think about what will work best with the overall style of your home. For example, a modern abstract painting might be a good fit for a contemporary home, while a vintage mirror might be more suitable for a traditional home. On the other hand, more subtle and refined pieces might add to a luxurious homelook and suggest a more refined taste.
Give your home a grand entrance with lighting
Lighting can make all the difference in creating a grand entrance. Consider adding exterior lighting to your entryways, such as wall sconces or hanging lanterns. These fixtures can add warmth and ambiance to your entry, making it more welcoming and inviting.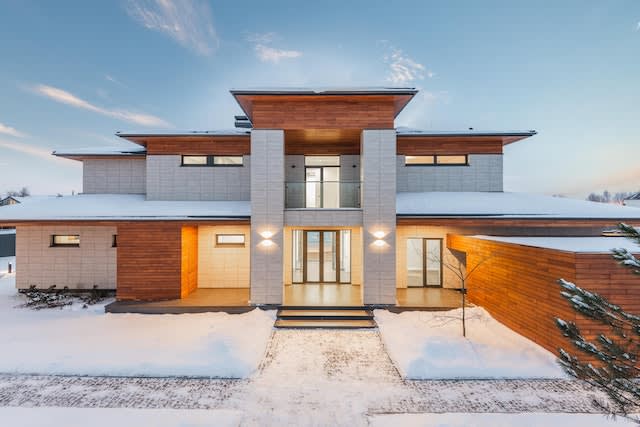 You can also use lighting to highlight specific features of your entrance. For example, you might install a small spotlight above a piece of art to draw attention to it or use a floodlight to highlight the architectural details of your home.
Finally, a well-lit entrance will make it easier for guests to find their way and help make the space feel more welcoming and inviting. However, to avoid being too bright, consider using table lamps or sconces to add softer, more diffuse lighting.
Include greenery
Adding some plants to your entryway is a great way to make it feel more welcoming and grand. Consider hanging baskets of flowers, placing potted plants on either side of your front door, or even adding a small herb garden. Not only will the plants add some life to your entrance, but they'll also improve your home's landscaping and, therefore, add some curb appeal.
When choosing plants for your entrance, consider the overall style of your home and what will complement it. Also, it would be wise to think about the climate and conditions of your area, as well as how much maintenance you are willing to do. For example, some plants, such as succulents and cacti, are low maintenance and can thrive in hot and dry conditions, while other plants, such as ferns and ivy, might require more watering and care.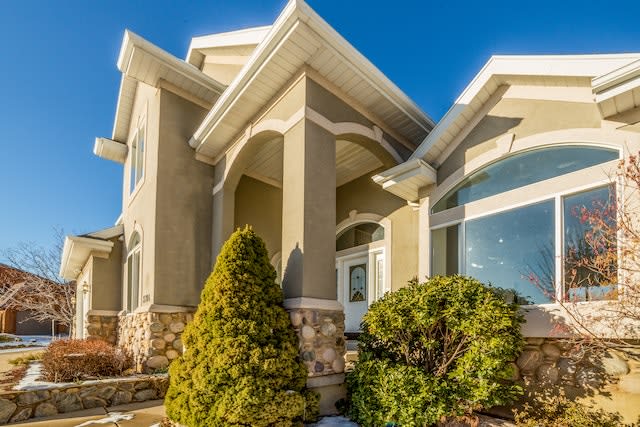 Upgrade your hardware
Finally, consider upgrading your hardware to give your home a grand entrance. That could mean replacing your doorknob with a more stylish option, adding a new mailbox, or even installing a new doorbell. These small touches can go a long way in giving your home a grand entrance.
Ultimately, it would be best if you also thought about the functionality of your hardware. For example, a doorknob with a keyless entry system might be a good choice for added security, while a doorbell with a camera might be a good option for seeing who is at the door before answering it.
The takeaway from how to give your home a grand entrance
As you could've seen, there are many creative ways to give your home a grand entrance. The options are numerous, from simple hardware or wall color changes to adding a statement piece and adapting proper lighting. So, take some time to think about this and find the solution that seems the most adequate to your family and your style.